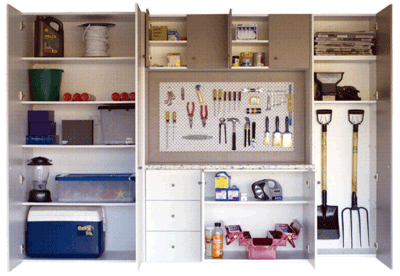 Garage Storage Solutions Australia, have designed a revolutionary storage system with individual units that can be mixed and matched to suit your needs.
All our units are wall hung for easy garage cleaning, maximise floor space and reduce the risk of moisture damage. Units range from the very practical workshop Maxi Units to our space-saving Slimline range.

Our Maxi Units (above right) are provided in two depths; 600mm & 300mm. The 600mm units are ideal for incorporating a workbench, drawers, and for storage of those larger items.
The 300mm deep units will accommodate less bulky items and maximise your garage space. All Maxi Units come with Blum hinged doors.
Maxi Units maximise your storage space for such things as gardening tools, large Eskies, toolboxes, golf bags, large boxes, buckets, fishing gear, cleaning products etc.
If you are wanting to utilise these wall units to create a 'workshop', then we can also incorporate a bench top and aluminium framed peg board for your tool placement requirements.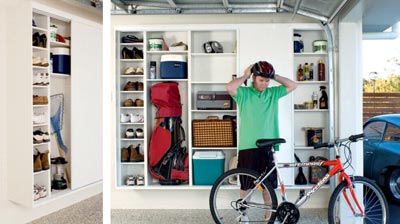 Our Slimline Units (right) are a low profile 300mm depth specifically design to neatly line the garage side walls. They feature sliding doors to avoid cramped access to vehicles and maximise your garage space.
All shelves are fully adjustable to best suit your storage requirements. These units range in width, and can be selected individually, or as a group of cabinets lining your entire garage walls.